Toolbar
FlexNet Manager Suite
2022 R2
(
On-Premises
)
The toolbar contains the following controls:

New button
A button that launches the Create New Adapter dialog.
Open button
A button that launches the Open Existing Adapter dialog. This allows browsing of all custom and factory-supplied adapters.
Save button
The Save button saves all files in the adapter that is being edited. This includes changes due to steps being moved in the Step Explorer, or versions being changed in the Version field on the toolbar.
Source Connection control
The drop-down portion of this control allows selection of an existing database connection. New connections can be created and existing connections may be edited using the '…' button, which launches the Select Source Connection dialog.
Version control
This control shows the version of the currently selected source connection. This version is evaluated by executing a query against the source database. Clicking the drop-down button displays a dialog that allows you to change this query for an adapter.
 Clicking the Retrieve Source Version button will execute the query and show the results in the dialog.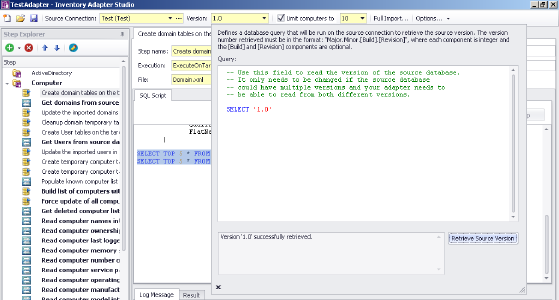 Use of this control is particularly important if your adapter supports importing inventory data from multiple versions of the same system. This usually occurs as enterprises upgrade systems over time.
Limit Number of Computers control
This control is checked and enabled by default for test connections. When set to a value, it limits the number of computers read by an adapter.
Full Import button
This button launches the Full Import dialog, which allows you to execute your adapter end to end and check your results in FlexNet Manager Suite.
Options
There are several options that apply to the Run buttons on the Edit panel. These control the way the Compliance Importer executes your adapter and correspond to command line arguments.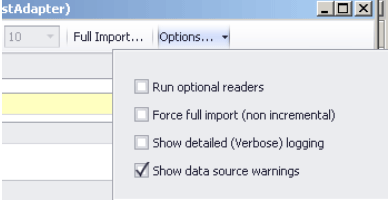 Options include:
Run optional readers

— the next run command will exercise steps marked with the

Step is optional

attribute.

Force full import

— the next run command includes steps marked with the

Runs on full import

attribute.
Tip:
When the attribute values prevent the execution of the step in the next run, it is grayed out with a strike-through in the step explorer.
FlexNet Manager Suite (On-Premises)
2022 R2