Microsoft Server/Management Core

(license type)

Note:

This license type is available only when you have licensed the

FlexNet Manager for Datacenters

product.

A license type introduced for Microsoft Windows Server 2016, applicable to the two product editions (Standard and Datacenter). This license type may also be used as Server Management licenses for on-premises installations of Microsoft System Center products (Standard and Datacenter editions).

Related CAL requirements vary across products:
If you have procured a Microsoft Server/Management Core license for Windows Server 2016 products, Windows Server CALs (per user or device) or Remote Desktop Services CALs are required to access this server application.
If you have procured a Microsoft Server/Management Core license for System Center 2016 products, Client Management Licenses (per user or per operating system) are required for managed devices that run non-server operating systems.
These licenses require that all processor cores of a physical server hosting a Windows Server 2016 or System Center 2016 product must be licensed. By default, the following minima apply (but you should carefully check the specific requirements of your relevant license agreement):
By default, a minimum of 8 processor cores must be licensed for each physical processor
By default, a minimum of 16 processor cores is required for each physical device (server).
Licenses of this type allow the following installations:
The Datacenter edition authorizes an unlimited number of product installations on the physical host or on virtual machines attached to it.
The Standard edition authorizes no more than two installations. With this edition, each additional one or two virtual machines with the product installed require that the full physical server is licensed again.
These conditions may be summarized in the following flowcharts, based on the default minima of 8 cores/processor and 16 cores/server: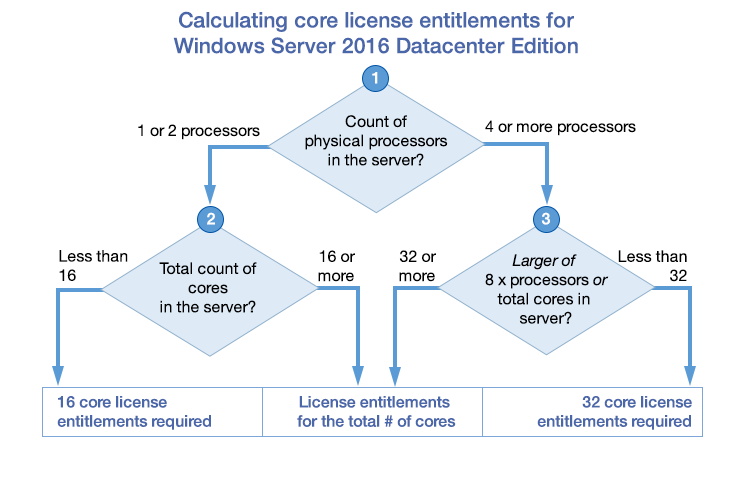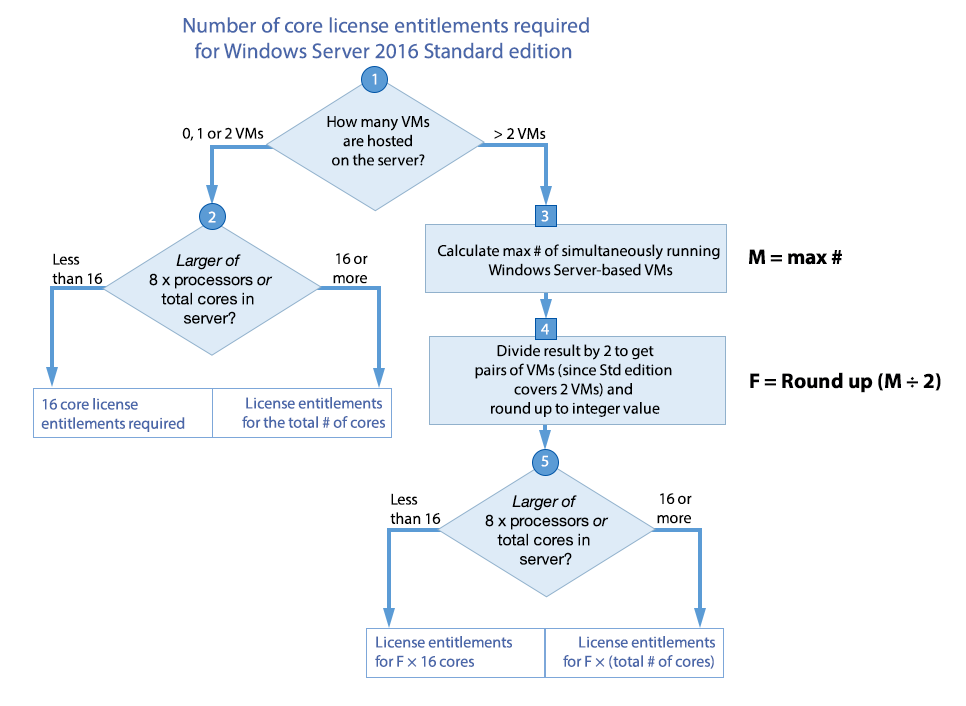 More information is available in the
Windows Server 2016 Licensing Datasheet
.
Tip:
For capacity-based licenses, if you allocate the license to an individual device but inventory does not show any relevant applications (linked to the license) installed on that same device, consumption on that device is calculated as for a device license (a count of one per device, regardless of the device capacity). You can manually adjust the points consumed using the
Overridden consumption
value (consumption is then updated at the next compliance calculation). If corrected inventory is later imported that shows installation of relevant applications, you also need to remove the manual assignment of points.
Provided that your SKUs include your purchase of Software Assurance, it is best practice to allow the Product Use Rights Library (PURL) and SKU library to appropriately set values for these licenses.
| | |
| --- | --- |
| Product use rights | Upgrade, downgrade, multiple use, licensing on VM hosts, core limits, and license mobility rights. |
| Group assignment | Group assignment is supported. |
| Consumption | The number of processor cores across all unique physical devices that have installations of one or more of the application linked to the license, and have an identified number of cores. Different editions of the software product vary the way the cores may be counted, as described above. |
| Included | Processor cores, either physical or virtual or both, within a single physical host. Each license entitlement covers one core, with minimal purchases required as described above. |
| Compliance | Compliant when Consumed is less than or equal to Total licensed. |
| Changing from | Scoping rules will be deleted. Allocations to computers may be deleted. |
| Changing to | You may want to allocate the license to host devices. |
IT Asset Management (Cloud)
Current