Flexera SaaS Manager
Release Notes
December 2018
Introduction
Flexera SaaS Manager integrates with a large group of SaaS applications, providing unparalleled business intelligence about when and how your users are interacting with the SaaS products licensed within your organization. Flexera SaaS Manager helps you discover, manage, optimize, and secure your SaaS subscriptions and identifies any unused, underused, or abandoned licenses, helping you rein in runaway spend.
New Features and Enhancements
This release of Flexera SaaS Manager includes the following new features:
Rebranding and Layout Improvements
Flexera SaaS Manager is now updated to align with Flexera branding, providing a common a look and feel across all Flexera products.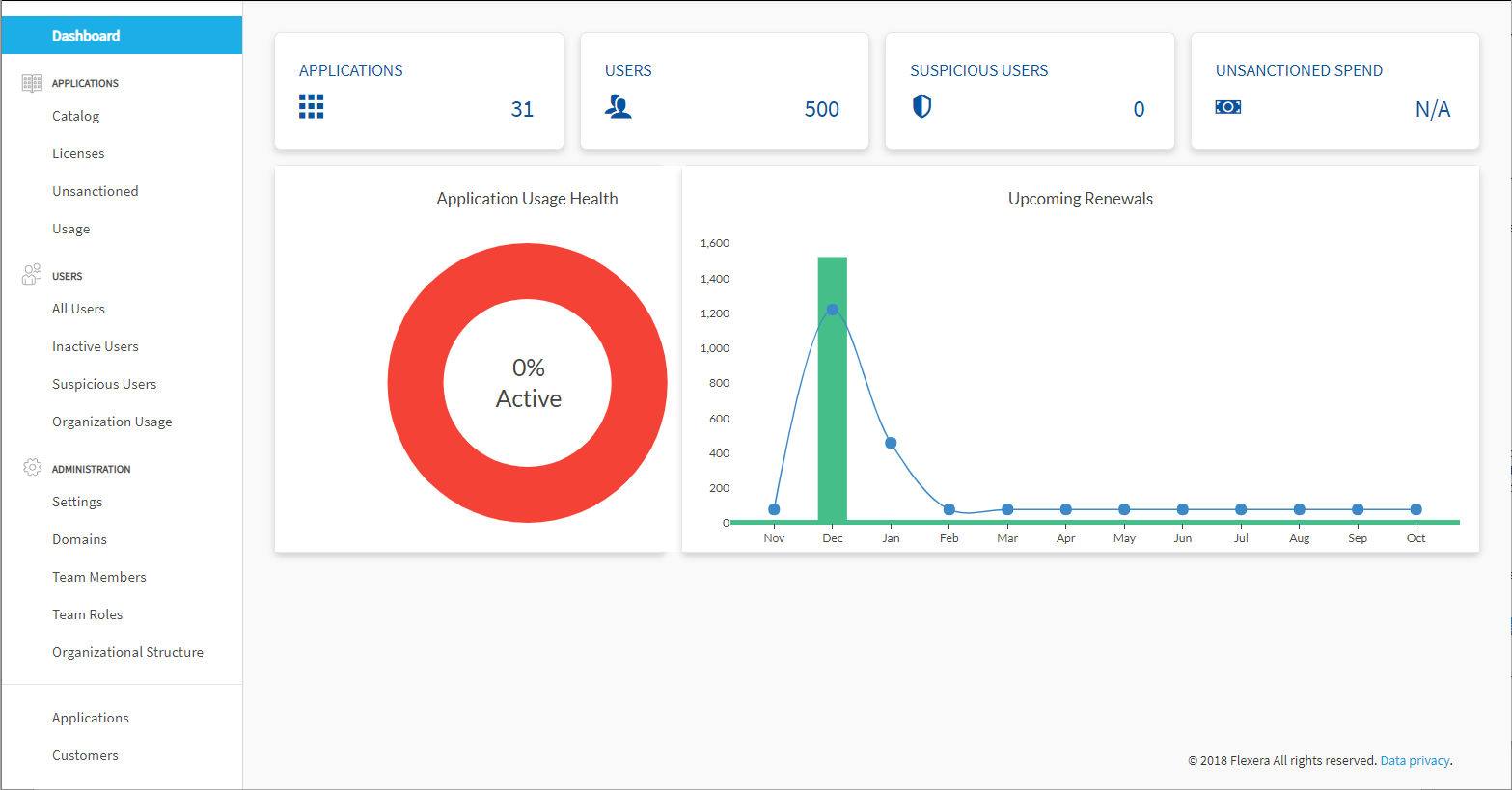 As part of these changes, the Flexera SaaS Manager application now includes many layout improvements and interface updates to conform to brand:
| | | |
| --- | --- | --- |
| | • | Left navigation provides ease of use, allowing you to see all navigation items without having to click. |
| | | |
| --- | --- | --- |
| | • | System email templates have been updated. |
| | | |
| --- | --- | --- |
| | • | The My Account and the Help Center links are now icons at the top right of the application. |
| | | |
| --- | --- | --- |
| | • | Fonts and link styles have been updated to improve readability. |
| | | |
| --- | --- | --- |
| | • | Button styling has been updated to reflect new visual styling standards. |
| | | |
| --- | --- | --- |
| | • | The search box now includes an "X" after search results have been returned so that you can clear search terms with one click. In addition, the message that appears when there are no matching search results has been improved for clarity. |
| | | |
| --- | --- | --- |
| | • | Style updates have been made to grids. |
Pagination Options Added to Improve Page Loading Performance
Pagination has been added to the Suspicious Users page and the Inactive or Abandoned Accounts page to provide faster page loading and to be consistent pagination provided throughout the application. Previously, the entire data content of these pages was being loaded into a single page. Adding pagination allows quicker parsing and rendering of the content.
Ability to Export Table Data
All tables in Flexera SaaS Manager now provide you the ability to export to CSV. An Export CSV button appears at the top of the table as shown in the following example from the Application Catalog table.

New Customer Domains Page Allows Entry of Multiple Domains per Organization
Flexera SaaS Manager now provides the ability for you to add multiple corporate email domains. Previously, only one domain was allowed. Logins from any of the added domains is supported. A new Customer Domains page lets an administrator define all of your organization's domains.
Support for Multiple Email Domains
If a single user logins to varying SaaS applications using different email domains, the activity reports received from those applications are now tied the same user.
Resolved Issues
The following table lists the customer issues that were resolved in Flexera SaaS Manager:
| | |
| --- | --- |
| Issue | Description |
| FSM-254 | User Roster export is not executing. When the export is clicked, the screen attempts to load continuously without downloading the roster. |
| FSM-250 | The All Users page shows incorrect values per user in the Annual Spend column. |
| FSM-298 | Netsuite integration error due to integration connecting to incorrect data center. |
| FSM-249 | The UNSANCTIONED SPEND total on the dashboard does not match the detailed line items total. |
| FSM-402 | Bugsnag Integration error. |
Legal Information
Copyright Notice
Copyright © 2018 Flexera
This publication contains proprietary and confidential information and creative works owned by Flexera and its licensors, if any. Any use, copying, publication, distribution, display, modification, or transmission of such publication in whole or in part in any form or by any means without the prior express written permission of Flexera is strictly prohibited. Except where expressly provided by Flexera in writing, possession of this publication shall not be construed to confer any license or rights under any Flexera intellectual property rights, whether by estoppel, implication, or otherwise.
All copies of the technology and related information, if allowed by Flexera, must display this notice of copyright and ownership in full.
Intellectual Property
For a list of trademarks and patents that are owned by Flexera, see https://www.flexera.com/producer/company/about/intellectual-property/. All other brand and product names mentioned in Flexera products, product documentation, and marketing materials are the trademarks and registered trademarks of their respective owners.
Restricted Rights Legend
The Software is commercial computer software. If the user or licensee of the Software is an agency, department, or other entity of the United States Government, the use, duplication, reproduction, release, modification, disclosure, or transfer of the Software, or any related documentation of any kind, including technical data and manuals, is restricted by a license agreement or by the terms of this Agreement in accordance with Federal Acquisition Regulation 12.212 for civilian purposes and Defense Federal Acquisition Regulation Supplement 227.7202 for military purposes. The Software was developed fully at private expense. All other use is prohibited.
Disclaimer
Information in this document is subject to change without notice. Companies, names, and data used in examples herein are fictitious unless otherwise noted. The provision of such information does not represent any commitment on the part of Flexera. Flexera makes no warranty of any kind with regard to this material, including, but not limited to, the implied warranties of merchantability and fitness for a particular purpose. Flexera shall not be liable for errors contained herein or for incidental or consequential damages in connection with the furnishing, performance, or use of this material.