Categories
App Portal 2020 R1
Categories are used to organize objects and are defined on several views on the Admin tab. Catalog item categories are defined in on the Catalog Management > Catalog Categories view.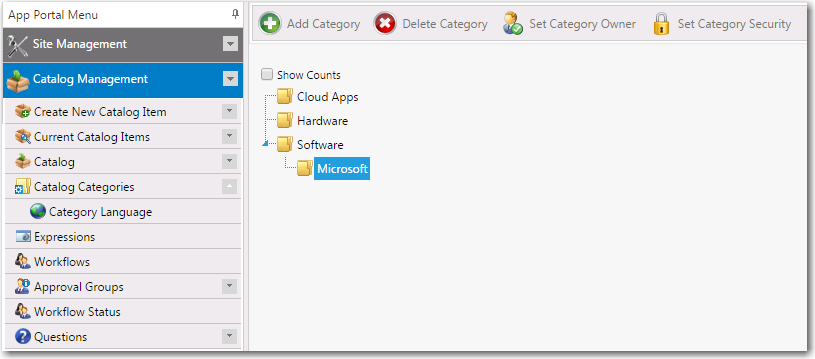 Catalog Categories Subview of Catalog Management
Additional types of categories are specified on the following subnodes of the Admin tab.
Categories Subnodes

| | |
| --- | --- |
| Main Node | Subnode |
| Catalog Management | |
| Site Management > Categories | |
| Report Management | |
| Compliance Management | Note:These categories are not used if you are performing compliance management using the My Apps feature, which requires integration with FlexNet Manager Suite. |
Buttons
The Categories subviews include the following buttons:
Categories Subviews Buttons

| | |
| --- | --- |
| Item | Description |
| Add Category | Enter a name for a new category. If you wish to make the new category a child of an existing category, highlight the category you wish to be the parent before selecting Add Category. |
| Delete Category | Deletes the highlighted category. Any request within the deleted category will be moved to the top most category. |
| Set Category Owner | Use to specify an owner of a category. Category owners can manipulate the items within their categories. Owners access their categories on the Profile > My Categories tab. |
| Set Category Security | To apply security to a category, highlight the category and click Set Category Security. Then, on the Category Security dialog box, specify the Groups, OUs, property values, or collections you wish to access the category. For more information, see Creating a Catalog Category. |
Context Menu Commands
The following context menu (right-click menu) commands are available in the Categories subviews:
Categories Subviews / Context Menu Commands

| | |
| --- | --- |
| Item | Description |
| Move to root | If you wish to make a child category a root category, highlight the child category and select Move to root from the context menu. |
| Rename | Use to rename a category. |
| Delete | Use to delete a category. |
| Set owner | Use to specify an owner of a category. Category owners can manipulate the applications within their categories. |
| Set security | Use to apply security to a category. |
Adjusting Tree Items
You can use the following methods to adjust the items in the tree:
Adjusting Tree Items

| | |
| --- | --- |
| Method | Description |
| Use "drag and drop" to re-parent a category | The category tree supports drag and drop. If you wish to move a category to another place in the tree, drag it to the new location and release the mouse button |
| Direct link | When a category is highlighted the direct URL to that category is presented. When entered, the catalog will display items within that category by default and the category will be selected. |