Viewing Request Status and Details on the My Requests and Processed Tabs
App Portal 2020 R1
You can view the requests you have submitted for yourself and requests you have submitted on behalf of other users on the My Requests and Processed tabs of the App Portal storefront. You can open the My Requests tab by clicking on it, or by clicking the View Status button on the Request Complete panel of the Checkout Wizard.
The My Requests tab is divided into two panes:
•

Search pane

—You can use the left pane to perform basic and advanced searching of requests.
•

Requests pane

—The right pane displays all the requests generated by the current user or those targeting their current computer.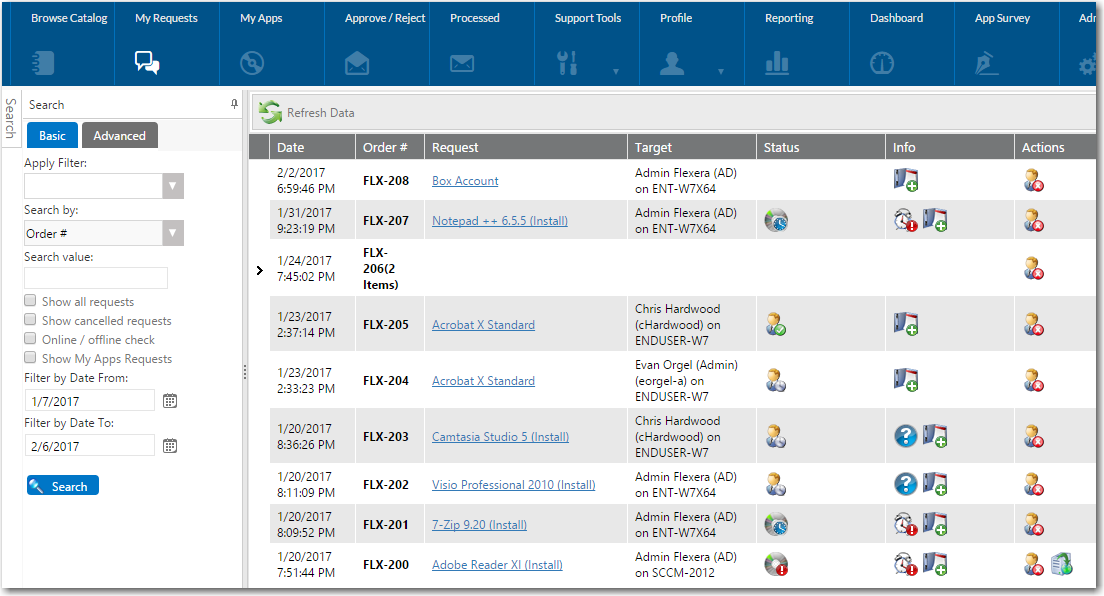 My Requests Tab
Each request is represented by a row in the grid and contains basic information about the request. Details of the request are visible by clicking on the request name in the Request column to open the Request Details dialog box, as described in Viewing Request Details.
Processed Tab
The Processed tab has the same general format as the My Requests tab, with the addition of the Requester and Target columns. The Processed tab lists all the requests submitted by the current user that were either approved or rejected.