Smart Groups
Smart Groups are the medium by which a Software Vulnerability Manager user views scan results. You are able to see the hosts, products, and associated advisories that are available to you, based on your view of the network as configured by your administrator. Furthermore, you are able to create custom filtered views of each of these using a variety of predefined criteria. The All Hosts, All Products, and All Advisory default Smart Groups are created by Flexera, and cannot be edited or deleted. They represent an unfiltered view for their respective content. Use the filters when creating additional Smart Groups to effectively customize the data you are most interested in, and want to see, create reports on, receive alerts and notifications about, and see dashboard portlet data on. Smart Groups are the basis by which most data in Software Vulnerability Manager is viewed, and can be used effectively to optimize your workflow.
Note:Smart Groups are generated periodically, and the data you see is only as current as the last time the Smart Group was compiled. At any time you can queue the recompilation of a Smart Group to get the most current data.
Within the Smart Group grids, you can double-click to view/edit an existing group's configuration. Alternatively, right-click a Smart Group to view, edit, compile or delete the group.
Select a Smart Group and click Queue For Compilation to update the data and notifications for the group. The group will usually update within minutes.
Click Create New Smart Group to configure a new Smart Group. Click + and – to add or remove criteria.
Click Templates, where available, to open the Smart Group Example Use Cases page. Select an appropriate use case and click Use Template to populate the Smart Group Overview and Configuration page, which you can then edit to match your specific requirements.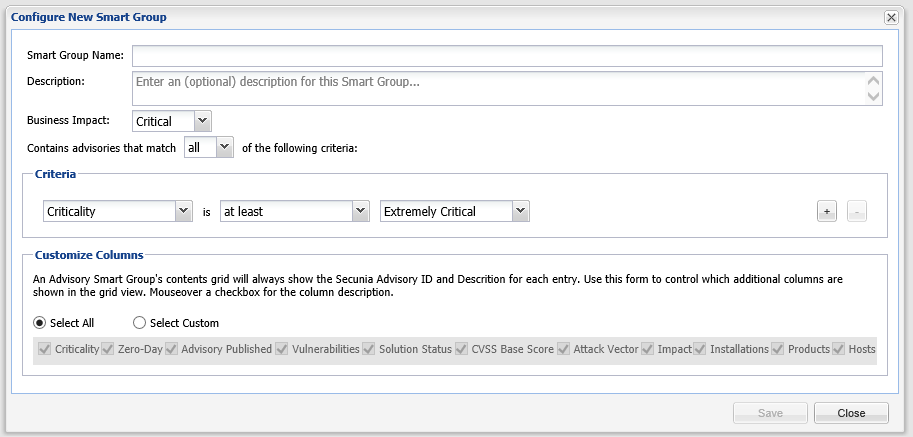 Important:If you edit a configured Smart Group, all existing log files and notifications for the Smart Group will be deleted. New logs will be created after your changes have been saved.
Important:Content can be available in multiple Smart Groups at the same time. For example, if you have a Smart Group showing all insecure products and another showing all products from Adobe, then if a host has an Adobe product installed that is insecure, this will be displayed in both Smart Groups. Also note that when you first run a scan you won't see the hosts in All Hosts, or any reports, until the Smart Group is compiled.
Note:You can click Export to export a single page, all pages or schedule an export. The exports are saved in CSV format.