The Inventory Adapter Studio Interface
IT Asset Management
(
Cloud
)
The Inventory Adapter Studio has the following key areas in its interface: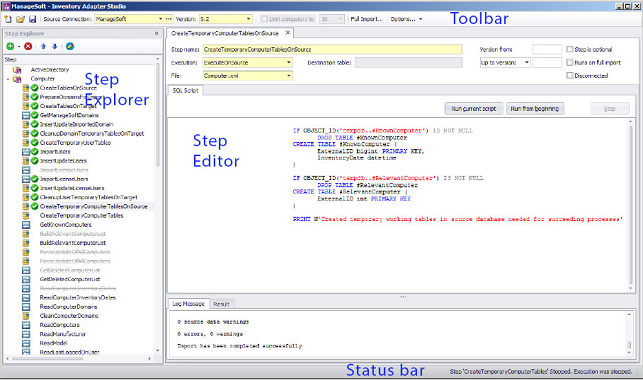 Element
Purpose
Toolbar

Creates new adapters or open existing ones.
Manages database connections.
Saves changes.
Specifies the database connection to work on.
Specifies the data size limits to apply when testing.

Step Explorer

Shows the steps in the currently open adapter. These open the edit panels on the right.

Import execution status will show as icons in this element.
Bold steps in the templates show where user customization is required; other steps have been completed by

Flexera

.
Steps may be added, deleted or have their execution order changed using the toolbar in the step explorer.

Step editor
Shows:

The name of the step and its settings.
The script in the step, with a Run button for testing.
The logs, showing import results.
The Result panel, which shows datasets from your SQL queries.

Status bar
Shows import progress.
Each section is discussed in more detail in the following topics.
IT Asset Management (Cloud)
Current