Run Scan from System Center Configuration Manager (SCCM)
The Software Vulnerability Manager Agent does not have to be installed on the local host to do a scan. You can create a traditional package in SCCM and run the scan on a weekly basis. To do this, you first need to be able to connect to https://csi7.secunia.com.
To run the Software Vulnerability Manager Agent inside an SCCM package:
2.

Launch the ConfigMgr console. Select

Software Library > Application Management > Packages

.
3.

From the ribbon, click

Create Package

.
4.

Complete the package information and click

Next

.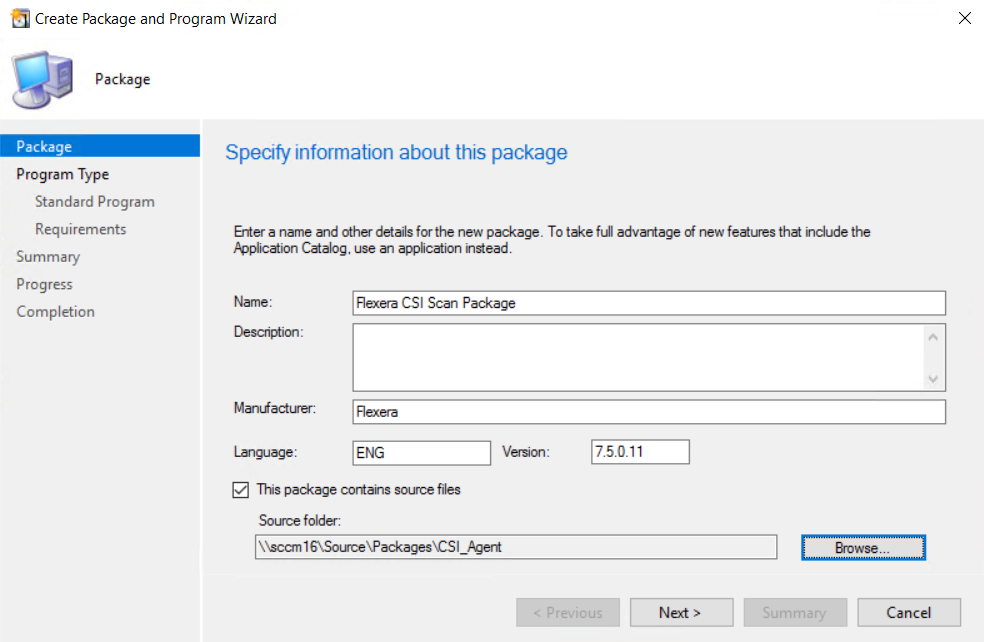 5.

On the

Program Type

page, ensure

Standard Program

is selected and click

Next

.
6.

On the

Standard Program

page, configure the following settings and click

Next

.
•

Command Line:

csia.exe -c -si 120 -v -d c:\windows\temp\csiscan.log

(creates a scan log file up to 16 MB in size)
•

Program can run:

Whether or not a user is logged on
7.

On the

Requirements

page, complete the requirements as shown below and click

Next

.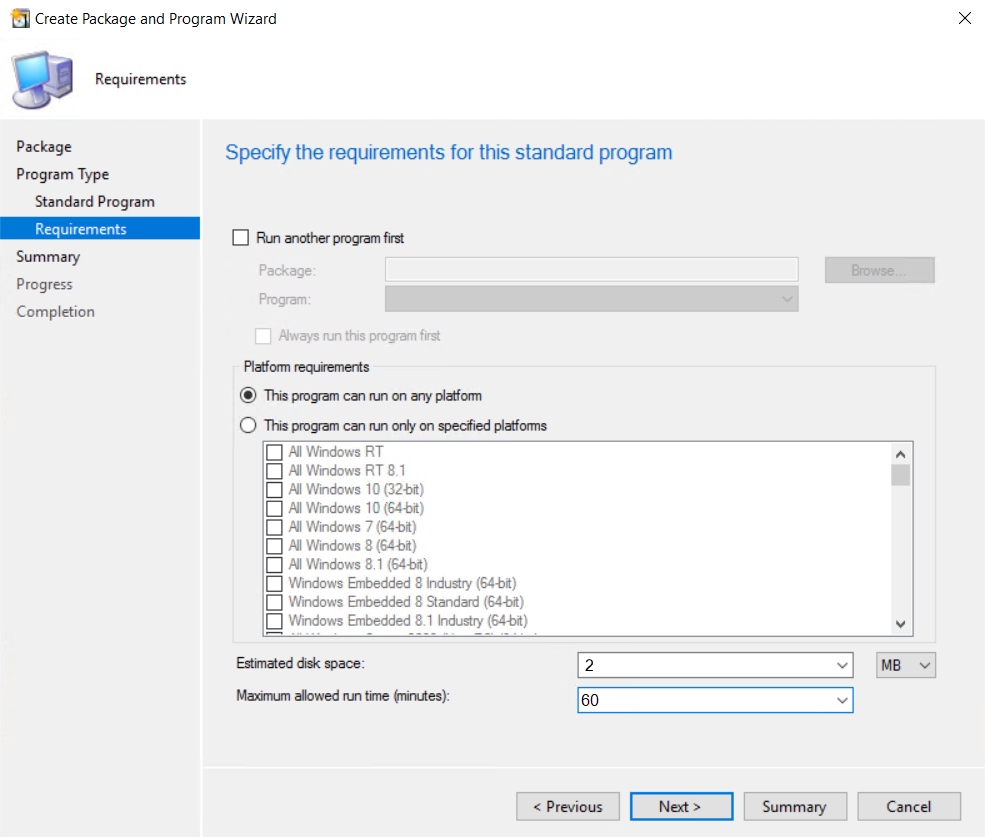 9.

Distribute the package to all Distribution Points or groups using the

Distribute Content

feature.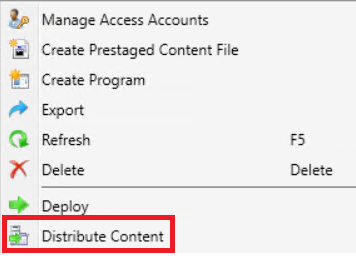 To create the initial scan and the weekly reoccurring scan:
1.

Select the Package and click

Deploy

on the ribbon.
2.

On the

General

page, select the target collection and click

Next

.
3.

On the

Content

page, verify that the content is distributed and click

Next

.
4.

On the

Deployment Settings

page, ensure the purpose is Required and click

Next

.
5.

On the

Scheduling

page, in the Assignment schedule click

New

. Schedule a scan for as soon as possible and create

a weekly scanning schedule. Also configure the Rerun behavior deployment to

Always rerun program

.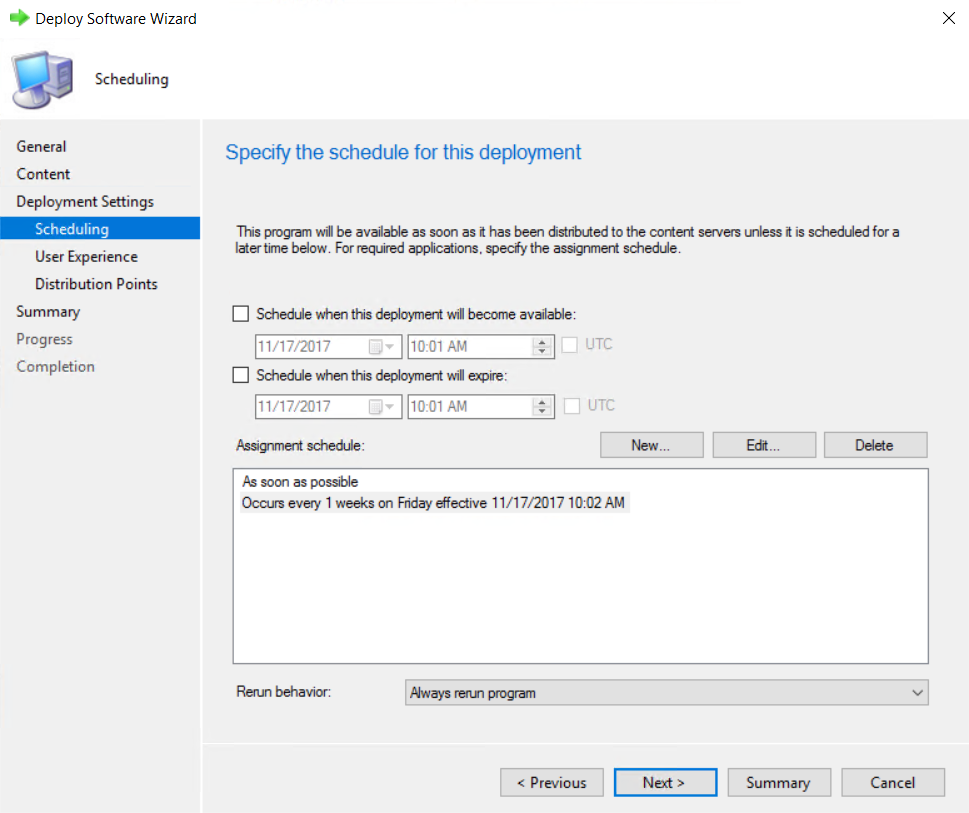 Tip:For larger environments, it is recommended to spread out the execution schedule of the scan package to avoid spikes of network traffic.
6.

On the user

Experience

page, click

Next

.
7.

On the user

Distribution Points

page, select

Download content

, and click

Next

.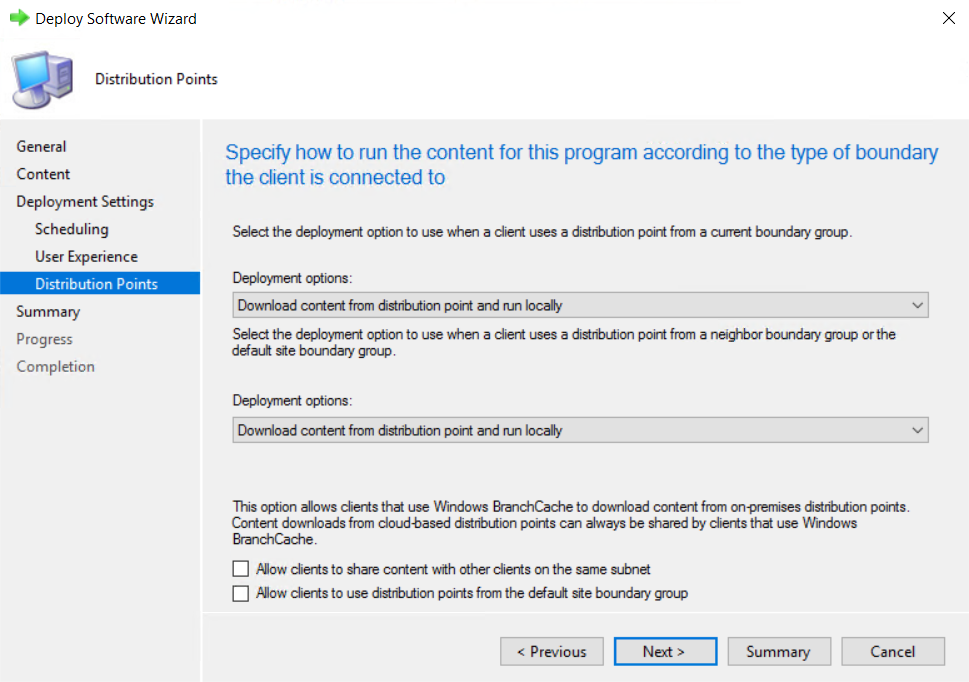 You can now monitor the scanning results from the Software Vulnerability Manager console.