My Apps License Reclamation Policies
App Portal 2020 R1
On the App Portal My Apps tab, users can view a list of applications installed on their devices, and address automatic and administrator-defined alerts to ensure that those applications comply with corporate software policies. This assists IT administrators in driving continual software license reclamation and optimization.
To specify which applications in your enterprise you want to target for license reclamation (uninstallation), you need to add those applications to the My Apps License Reclamation Policies list, which is opened by selecting Compliance Management > My Apps.
When adding applications to this list, you can select from a list of applications with identified Flexera IDs or those that have a license created in FlexNet Manager Suite. You can also choose to search the entire Application Recognition Library for an application to add.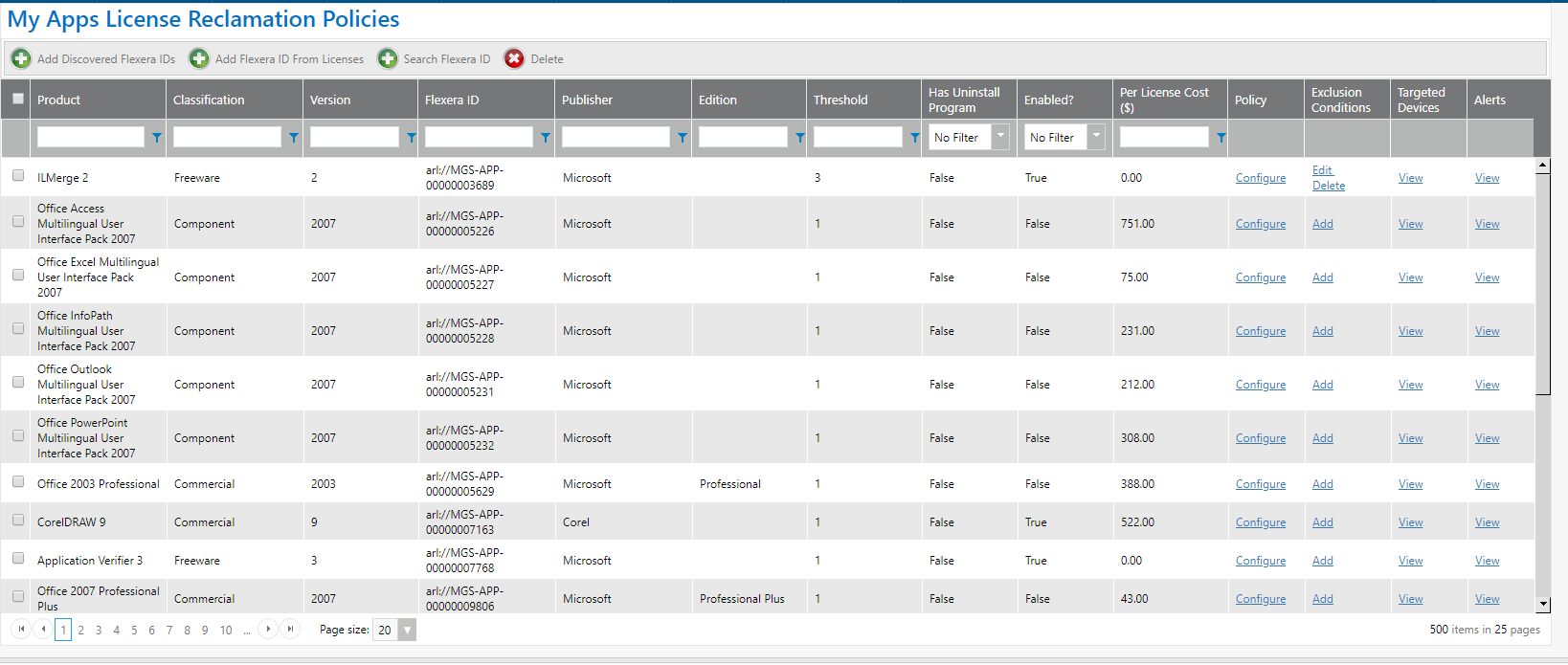 My Apps License Reclamation Policies
The My Apps License Reclamation Policies view includes the following properties:
My Apps License Reclamation Policies View

Property

Description

Product

Name of application.

Classification

Identifies application as belonging to one of the following FlexNet Manager Suite classifications:

•

Beta

—Pre-release application (such as beta releases, alpha releases, or release candidates).

•

Component

—Item is used/installed as a component of another application or suite, and is not licensed as a standalone item.

•

Commercial

—Requires a license to be purchased for use in a commercial setting.

•

Freeware

—Licensed for use in a commercial setting free of charge.

•

Malware

—Application is considered to be potentially harmful (such as a virus or a Trojan horse).

•

Shareware

—Application is available for download from Internet shareware sites, and typically uses a "try-before-you-buy" licensing model.

•

Update

—Application represents an update (such as a service pack) to another application, issued free to all customers regardless of purchasing agreements or support contracts (a "minor" update).

•

X Rated

—Application potentially contains objectionable or sexually explicit material.

Version

Version number of application.

Flexera ID

A unique code assigned to applications by FlexNet Manager Suite that is used to link application information from FlexNet Manager Suite with application information in App Portal, and with other Flexera Software applications.

Publisher

Manufacturer of application.

Edition

Edition description of application, if any.

Threshold

Number of days the application has to be unused before an unused software alert is triggered.

Has Uninstall Program

If an uninstall program has been associated with this application in its deployment technology, Yes will be listed. If it does not have an associated uninstall program, No will be listed.

Enabled?

 

Per License Cost ($)

 

Policy

License Reclamation Policy. Click Configure to open the Configure License Reclamation Policy view for that application, where you can set license reclamation policy options.

Exclusion Conditions

Clicking the Edit link to view a list of all license reclamation campaign conditions which have been sent out for this application or click Add to add a new campaign condition.

The License Reclamation Campaign Conditions pop-up appears. See License Reclamation Campaign Conditions.

Targeted Devices

Click View to view the Devices (My Apps) view, a list of the devices where this application is currently installed.

Alerts

Click View Alerts to view the Devices (My Apps) view, a list of alerts that have been generated for this application.

Add Discovered Flexera IDs

Click to view a list of all applications in the enterprise that have a Flexera ID identified.

Add Flexera ID from Licenses

Click to view a list of all applications in the enterprise that have a license created in FlexNet Manager Suite.

Search Flexera ID

Click to search all applications in the FlexNet Manager Suite Application Recognition Library.
See Also
Configuring the My Apps Feature to Perform Compliance Management
Specifying the License Reclamation Target Applications